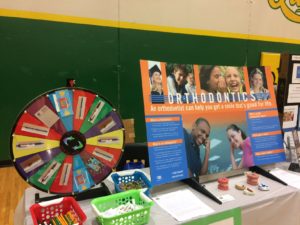 We can hardly believe we're halfway through another month, but it's true that time flies when you're busy! With Valentine's Day, Black History Month, American Heart Month and National Acts of Kindness Day all happening in February, our calendar is full of things to celebrate.
Believe it or not, we are still going strong with our New Year's resolutions. Our goal this year is to inspire young people to care more about dental health and of course, give them spectacular smiles. Well, we're happy to report we are doing just that! We've attended several school health fairs and career days that have given us the opportunity to spread the word about good dental habits and professions in the dental and orthodontic fields. Who knows, we may have inspired a few future doctors in the making!
We love Valentine's Day for the fun decorations, candy hearts and the chance to tell our patients how much we appreciate them. Next time you're in the office, take a guess at how many Hershey's Kisses are in the jar and you could win $25 American Express gift card!
February is American Heart Month and we think it's so important to spread awareness about heart disease. Since it's the leading cause of death in American men and women, knowing the signs of heart attacks and cardiovascular disease can save a life. Regular exercise and eating a healthy diet are great ways to reduce your risk of developing heart issues. When we're in need of a heart-healthy recipe, we love to browse www.eatingwell.com! They have lots of healthy and delicious recipes to choose from, like pistachio-crusted chicken and turkey and wild rice soup.
Did you know that February 17th is National Acts of Kindness Day? While we encourage spreading kindness all year long, we love the opportunity to come up with creative ideas to share the love. Kind gestures can be big or small. Try leaving a positive message on a sticky note at work, school or on a random window. It's possible the person who reads it might have needed that little bit of encouragement!
We hope this month is filled with love and kindness for your family. Have a wonderful February and we hope to see you in the office soon!